Luxury RV Trips to Morehouse Football Games
Road trip to Morehouse football games in style! Enjoy flat screen satellite TVs playing games from all over along with all you can eat food and drink. Round trip transportation provided from Atlanta, GA to select games with tons of door prizes. $100 per person, with proceeds benefitting our Atlanta Metro Chapter scholarship fund.
More Info: contact Joe McNeil (404) 557-3947.
2013 Road Trips:
9/14 @ Lane College
10/12 vs. Tuskegee (in Columbus, GA)
10/19 @ Albany State
11/2 @ Ft. Valley State

More Info and Registration
The Atlanta Metro Chapter and Morehouse College Alumni Association once again team up to present the annual Homecoming Golf Tournament. We are pleased to announce we are partnering with Mercedes-Benz of South Atlanta again to sponsor hole-in-one contests. The main prize will be a brand new Mercedes-Benz! Additional prizes will include vacation destinations and new golf club sets. Also this year, we are partnering with Bridgestone Golf to sponsor a post event Golf Ball Fitting. Bridgestone will analyze each golfers swing and match him or her with the appropriate golf ball for their style of play. The cost for the event is $125.00 through October 18th. After October 18th,the cost will be $150.00. Registration is now open and can be completed online at http://www.tournevents.com/homecoming13 .
Sponsorship opportunities are still available!

More Info: Contact M. Bud Willis, '86 of Tigers On The Green at or 404-906-0969

Sep-23-2013 --- Morehouse College Ray Charles Performing Arts Center
::: R&B singer Ashanti and the Morehouse College Glee Club performed.
::: Chaka Khan headlined an event at the Grammy Museum in Los Angeles.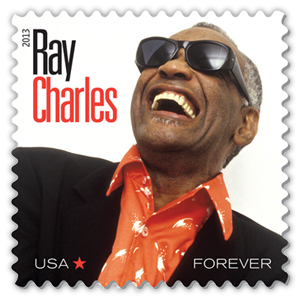 more
The latest stamp in the Music Icons series honors inspiring musician Ray Charles. The extraordinary composer, singer, and pianist, blind since childhood, went beyond category, blending blues, gospel, country, jazz, and soul music in a unique and highly influential pop music style. His many hits included "I've Got a Woman", "Georgia on My Mind," and "I Can't Stop Loving You."

Ray was raised in the small town of Greeneville, Florida. Given lessons in classical piano and clarinet, he also taught himself to play saxophone. "My ears were like sponges, soaked it all up," he later said. After moving to Seattle in 1948, he formed a group known as the McSon Trio and recorded his first single. Before long, he signed with Atlantic Records. In 1955, Charles had his first national hit, "I've Got a Woman," making him a major figure in the then-emerging style of rock-and-roll.

Ray Charles's work spanned almost the entire breadth of American music and brought him 17 Grammy Awards, plus an award for lifetime achievement in 1987.
Countless other prizes include the Polar Music Prize in 1998; the National Medal of Arts, awarded in 1993; and the Kennedy Center Honors in 1986. That same year, he was inducted into the Rock and Roll Hall of Fame. Ray Charles performed for seven presidents: Nixon, Ford, Carter, Reagan, George H.W. Bush, Clinton, and George W. Bush.

Art director Ethel Kessler worked on the stamp sheet with designer Neal Ashby. The stamp art features an image of Charles, taken later in his career, by photographer Yves Carrère. The sheet was designed to evoke the appearance of a vintage 45 rpm record sleeve. One side includes the stamps and the image of a sliver of a record seeming to peek out the top of the sleeve. A larger version of the photograph featured on the stamp and the logo for the Music Icons series appear on the reverse side.

Along with the Ray Charles Forever® stamp, the U.S. Postal Service is releasing a CD with a collection of remastered classics of some of Ray's most stellar performances, and previously unreleased material. It features 13 tracks, including the USPS exclusive bonus track, "I Didn't Know What Time It Was." The CD album cover features art from the Ray Charles stamp. It's available for $9.99 in nearly 5,000 Post Offices nationwide and online in the Postal Store.